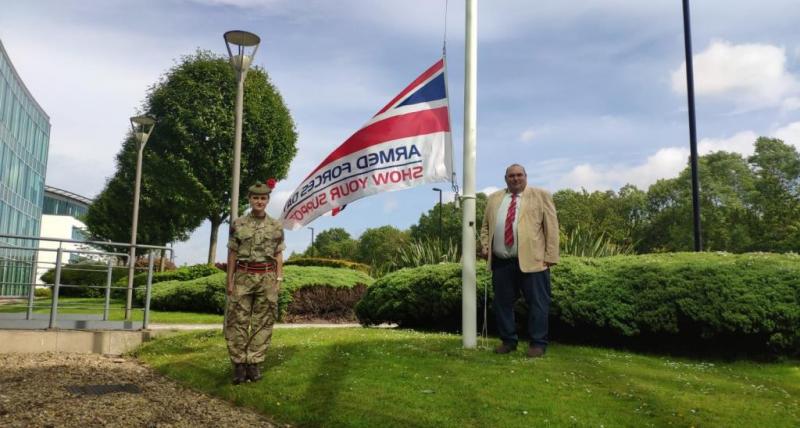 As part of Armed Forces Week, North Tyneside Council is highlighting the support available for its veterans, reservists, serving personnel and their families living in the borough.
Armed Forces Week takes place from June 22 to June 27 and while the ongoing Covid-19 pandemic means that the council can't commemorate Armed Forces Week with the events it usually would, it is committed to ensuring that support is always available.
To help mark the week, Cllr Gary Bell, the council's Armed Forces Champion, will be raising the Armed Forces Day flag at the authority's Quadrant HQ on Monday 22 June.
Speaking on the council's commitment, Cllr Bell said: "Here in North Tyneside, we have always supported and honoured the work of our veterans and serving personnel, and this year will be no different.
"Despite these unprecedented times, we will always honour and try to pay our respects to the people who represent our country.
"I am immensely proud of the services available in North Tyneside, both from the council and local charities and organisations, and we will continue to offer these regardless of the situation."
In November 2018, North Tyneside Council appointed an Armed Forces Officer, Laura Potter, to act as a single point of contact and strengthen support for the armed forces community.
Laura's role involves advising and signposting both serving and ex-serving personal to housing, benefit, employment and health services.
She also acts as a single point of contract for council departments and other agencies to prevent any situations escalating for any veterans.
The council was recognised for its outstanding support for the Armed Forces community by being awarded an Employer Recognition Scheme Gold Award, one of only a handful of North East employers to receive the award in 2019.
The MOD's Employer Recognition Scheme Gold Awards represent the highest badge of honour available to those that employ and support those who serve, veterans, and their families.
Cabinet also gave the go-ahead for plans to help armed forces personnel get jobs, with a scheme guaranteeing ex-serving personnel an interview for vacant posts if they meet the requirements extended to existing members of the armed forces serving as reservists.
For more information on North Tyneside Council's work to support the armed forces, visit www.northtyneside.gov.uk and search for 'Armed Forces' or email laura.potter@northtyneside.gov.uk.
ENDS