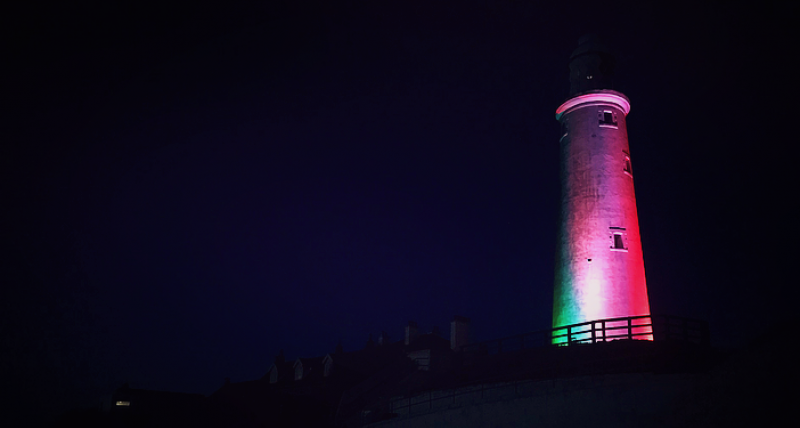 23 February 2021 - 9:23am
St Mary's Lighthouse will be lit up in rainbow colours all this week to mark the last week of LGBT+ History Month.
LGBT+ History Month celebrates lesbian, gay, bisexual, and transgender (LGBT+) people, their history, lives and their experiences in the wider community.
This year, we are proud to have been flying our new Progress Pride Flag outside our council offices throughout February. This flag recognises the rich diversity of the LGBTQ+ community reflecting LGBTQ+ people of colour as well as different gender identities. It also reminds us that while progress has been made - we still have much more to do.
With fewer in-person events taking place this year for LGBT+ History Month due to the COVID-19 pandemic, we are also lighting up St Mary's Lighthouse in different colours of the rainbow over the week.
North Tyneside Elected Mayor, Norma Redfearn CBE, said: "We want to ensure North Tyneside is a place where people feel safe and no one experiences discrimination or disadvantage because of their characteristics, background or personal circumstances.
"We are a council that values and promotes equality and inclusivity, and this month's celebration is a great opportunity to remind us all that promoting equality and challenging discrimination is everybody's business."
The news comes as members of North Tyneside Council's Cabinet last night (February 22) approved its updated equality and diversity policy, which demonstrates its commitment to the national Equalities Act and eliminating discrimination. The refreshed policy follows a public consultation which took place between November and January.
To find out more about LGBT+ History Month, visit: www.lgbtplushistorymonth.co.uk.