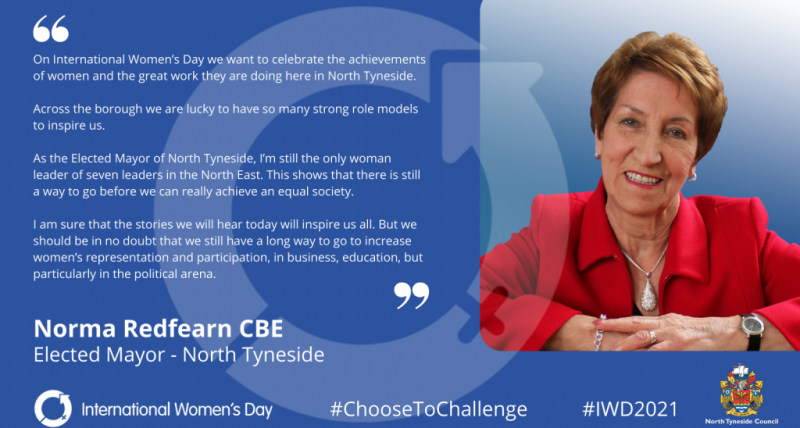 Today (Monday March 8) we're celebrating International Women's Day and the inspirational women making a difference across North Tyneside.
International Women's Day has been held annually since 1911 and is dedicated to celebrating the social, economic, cultural, and political achievements of women. It is also a call to action for accelerating gender parity.
The theme of this year's event is #ChooseToChallenge.
International Men's Day takes place later in the year on November 19 and has been celebrated since 1992. The day celebrates "the positive value men bring to the world, their families and communities", highlighting positive role models and raising awareness of men's well-being.
Speaking about International Women's Day North Tyneside Elected Mayor, Norma Redfearn CBE, said: "On International Women's Day we want to celebrate the achievements of women and the great work they are doing here in North Tyneside.
"Across the borough we are lucky to have so many strong role models to inspire us.
"While it is important to celebrate what women have achieved and how much progress has been made, we must also choose to challenge gender bias and inequality.
"As the Elected Mayor of North Tyneside, I'm still the only woman leader of seven leaders in the North East. This shows that there is still a way to go before we can really achieve an equal society.
"I am sure that the stories we will hear today will inspire us all.  But we should be in no doubt that we still have a long way to go to increase women's representation and participation, in business, education, but particularly in the political arena. 
"Stereotypes are being challenged, however, there is still a continuing need for more progressive mindsets. Too often, social media can put pressure on girls and women to be concerned over what they look like or whether they have the right image. The best thing that we can offer women is hope and of course the support and tools to be able to reach their potential.
"So if you're ready to play your part for true gender equality, then I am sure that today we will be able to think about how we do this and how we help society to move on."
North Tyneside Elected Young Mayor Suzie Mckenzie, 15, said: "We can all do our part. We can all stand up for women's rights. We can all combat sexism for our mothers, sisters, wives or even ourselves.
"But how many of us are actively choosing to challenge it? How many of us are choosing to fight towards a world without child brides? A world where every young girl has the opportunity to learn how to read. A world where young girls can walk alone at night. A world where we aren't asked "well, what were you wearing?"
"So, I call on everyone who reads this to choose to challenge. Today, on International Women's day, and every day after it."
How can you get involved?
•           Strike the Choose To Challenge pose and share on social media using #ChooseToChallenge #IWD2021 to encourage further people to commit to helping forge an inclusive world.
•           For more information on IWD visit International Women's Day