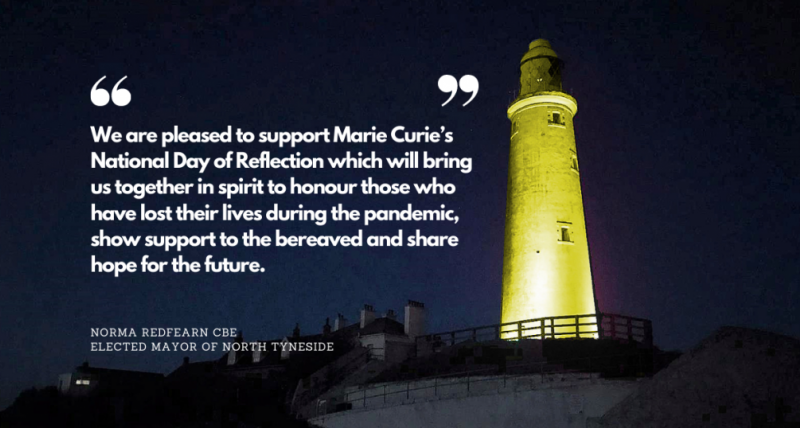 Lives lost during the coronavirus pandemic and the bereaved loved ones left behind will be remembered on a National Day of Reflection next week.
Tuesday March 23 marks a year since the announcement of the first national lockdown. 
End-of-life charity, Marie Curie, is inviting people across the country to hold a minute's silence at 12pm, with a doorstep vigil at 8pm to create a nationwide "beacon of remembrance" by beaming phones, candles and torches into the night sky.
Prominent buildings and landmarks will also be lit up across the UK and North Tyneside Council is pleased to show its support by illuminating St Mary's Lighthouse in yellow – in recognition of Marie Curie's Great Daffodil Appeal.
Latest figures suggest that almost half of people in the UK have been bereaved during the COVID-19 outbreak, with many not having had the chance to fully process their loss.
North Tyneside Elected Mayor, Norma Redfearn CBE, said: "The last year has brought so many challenges and we continue to face very difficult times.
"We are pleased to support Marie Curie's National Day of Reflection which will bring us together in spirit to honour those who have lost their lives during the pandemic, show support to the bereaved, and share hope for the future."
Council Chair, Cllr Wendy Lott, said: "There have been many changes for us all since the first lockdown announcement on March 23 2020.
"We have lost loved ones, whether it be from COVID 19, or through the indirect affect it has had on us all.
"May we take this time to remember those we have lost, continue to support each other and never lose hope."