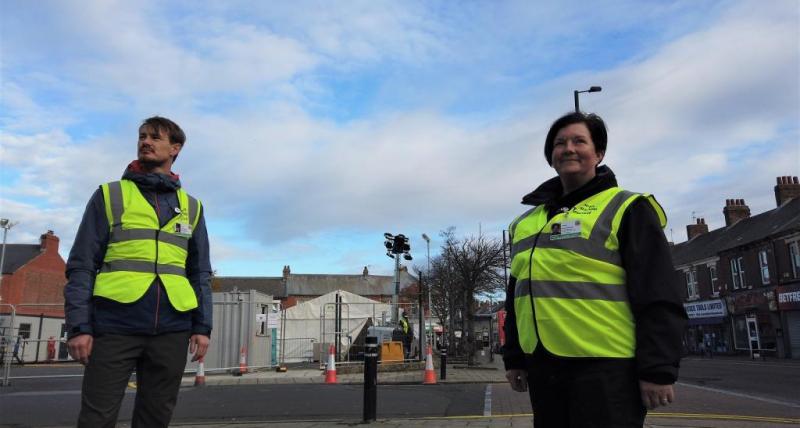 North Tyneside marshals will be given new powers to help tackle environmental offences at beauty spots. 
North Tyneside Council is creating an enhanced role for the marshals as part of a plan to make sure that parks and coastal areas are well prepared for a post-lockdown increase in visitor numbers.
The team has played a vital role and supported thousands of residents with advice on how to stay safe during the pandemic.
They were due to stand down at the end of March but will now continue patrolling the borough and more marshals will be recruited, with the power to issue fines for offences such as littering, dog fouling and graffiti.
The 'stay at home' order comes to an end on March 29, when gatherings of up to six people will be allowed outside.
The council is deploying a range of measures to ensure that areas can cope with an increased volume of visitors, including five extra CCTV cameras to monitor the coast and parks for antisocial behaviour and 100 extra bins across the Borough.
Beach wardens will be working to help keep visitors safe from April instead of June, with additional cover on weekends, and seasonal workers will be recruited to help keep parks and beaches clean seven days a week.
Public toilets will also open for longer hours from April.
The council continues to work closely with community groups to share intelligence on any issues of local concern. Council officers will also join forces with their Police colleagues as part of Operation Coastwatch from April 1.
A new campaign is asking residents to join the council and its partners in making a promise to help keep North Tyneside a great place to live, work and visit.
The campaign launches in March and will focus on environmental issues such as fly-tipping, dog fouling, litter, waste storage and collection, and tackling anti-social behaviour.
The campaign will encourage people to be personally responsible for their actions and take pride in the borough by reporting any problems they see while out and about. It will also help support our towns' post-Covid recovery and highlight success stories in keeping our shopping areas clean and attractive places to visit.
North Tyneside's Elected Mayor, Norma Redfearn CBE, said: "We are keen to see visitors return to our most popular parks and coastal areas just as soon as restrictions are eased and case numbers continue to fall.
"I'm sure our local businesses will be happy to see people coming back in numbers to enjoy our wonderful outdoor spaces as well.
"But this does bring challenges for the council and we are aware that a sudden influx of visitors can place additional pressure on local areas, and we have made a real effort to be ready well in advance and put a range of measures in place that will reassure and give confidence to local people and visitors.
"There will be additional bins, CCTV cameras, and staff resources to manage and maintain our coast and our parks. We are determined to keep our open spaces safe and secure, clean, and accessible. We're also asking for residents, visitors, and businesses to do their bit too and help us keep North Tyneside a clean and safe place.
"I am delighted that our Covid marshals will continue in a slightly modified role. The team have made a real difference in just a few short months and I think it's great to have our officers carrying out multiple duties when they are out on patrol on the streets of North Tyneside."