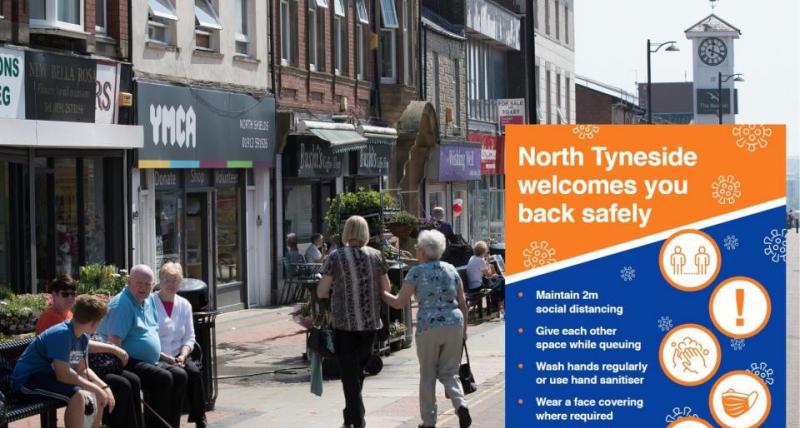 North Tyneside Council is welcoming people back to shopping areas safely.
From Monday (12 April), non-essential retail can reopen in line with the Government's roadmap out of lockdown and hospitality venues can serve people outdoors.
The council is working closely with businesses to help them keep staff and residents safe and minimise the spread of COVID-19 as high streets and retail centres in the borough reopen.
Wendy Burke, North Tyneside Council's Director of Public Health, said: "It's a really positive step in the Government's roadmap out of lockdown that non-essential retail and hospitality venues can begin trading again and it's great that we'll be able to get out and support our fantastic local businesses again.
"We know how hard it has been for those who have had to remain closed and we are well aware of the challenges presented by reopening after lockdown after last time and are responding accordingly.
"It is also absolutely vital that we all do our bit and continue to follow the rules so that we don't undo all of the hard work in bringing infection rates down over the past few months, which have been so tough.
"As we begin to head out and about again we must all continue to limit contact with other people, give each other space when queueing, follow the 'hands, face, space and fresh air' advice and don't go out if you develop any symptoms and get tested immediately.
"And, make sure you book your vaccine when invited and remember – the rules still apply even if you've had your vaccine. It doesn't make you exempt."
To help businesses and customers stay safe the council is installing new, updated high-visibility signage and messaging throughout the borough and on public transport with the latest regulations and guidance.
The council has also engaged directly with businesses to help them make sure they are Covid-secure ahead of reopening and to offer any available support or targeted advice. The authority is working with businesses to encourage staff to use regular home Covid testing or local test centres and is administering a number of grant schemes to support businesses.
In addition, Covid marshals are continuing to patrol the borough alongside police and provide advice and information; extra beach wardens, CCTV and street cleaning are in place; the council's information officer is working closely with businesses and members of the public in retail centres; and regular monitoring of areas which are known to attract large numbers of people will take place.
North Tyneside Business Forum, which is comprised solely of local businesses, is providing free business support packs including social distancing stickers, public facing posters, and Covid-secure risk assessment posters.
Chair Karen Goldfinch said: "As well as offering traditional support to businesses, we felt that something more practical would be beneficial to our business community. Sometimes the little things get missed out and these simple poster and social distancing stickers inform and protect the customer and help remind every retailer in the borough that we are there to help."
Meanwhile, a number of surveys, in partnership with People & Places, have also been running aimed at getting feedback from residents and businesses on future priorities for retail centres as part of the recovery from the pandemic.
For more information about business support available in North Tyneside and find out more about the North Tyneside Business Forum.
The Buy Local North Tyneside campaign continues to support and promote local businesses.