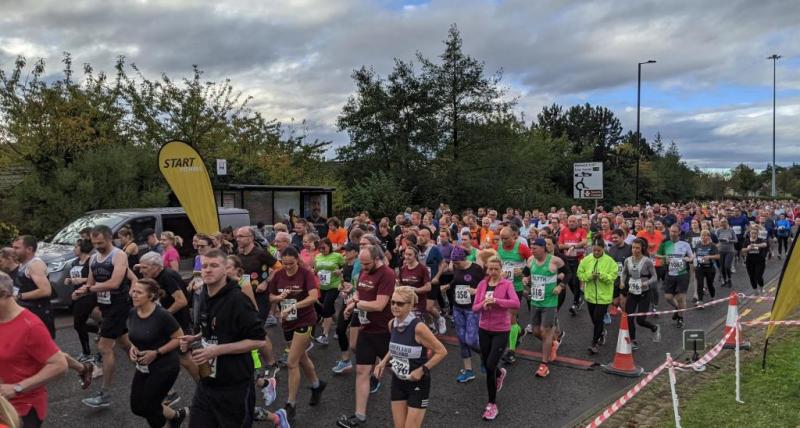 17 October 2021 - 12:40pm
Over a thousand runners took part in today's North Tyneside 10k Road Race, organised by North Tyneside Council.
The race was won by David Green, of North Shields Poly running club, in a time of 31m 42s. The first female over the line was Jacqueline Penn, also from North Shields Poly, in a time of 38m 21s.
Craig Gunn was second and James McKenzie third. Imogen Bungay was the second female to finish and the top three was completed by Kathryn Stevenson.
The race, usually held on Easter Sunday each year, was postponed to 17 October due to Covid restrictions.
Cllr Sarah Day, cabinet member for Culture, Sport and Leisure, said: "It was fantastic to see everyone taking part in the road race once again and enjoying the beautiful route.
"I was delighted to present David and Jacqueline with their prizes. Well done and congratulations to everyone who took part."
The event was the 16th running of the North Tyneside 10k and is considered one of the most scenic but challenging in the UK.
Supported by Start Fitness and Gregg's, the race attracted club and fun runners from across the country.
Participants made their way from the Parks Sports Centre in North Shields, along the Fish Quay, past Tynemouth Priory and up the coast to St. Mary's Lighthouse.
The race has a course record of 30m and 26s set by Mongolian athlete Serod Batocir in 2011. The fastest time recorded by a female runner was 33m 56s by Justine Heslop back in 2012.
Entrants received an official race t-shirt, their winning time by text message and video clips of them crossing the finishing line were available too.
Entries for the 2022 race, returning to its usual Easter Sunday slot, will open soon.