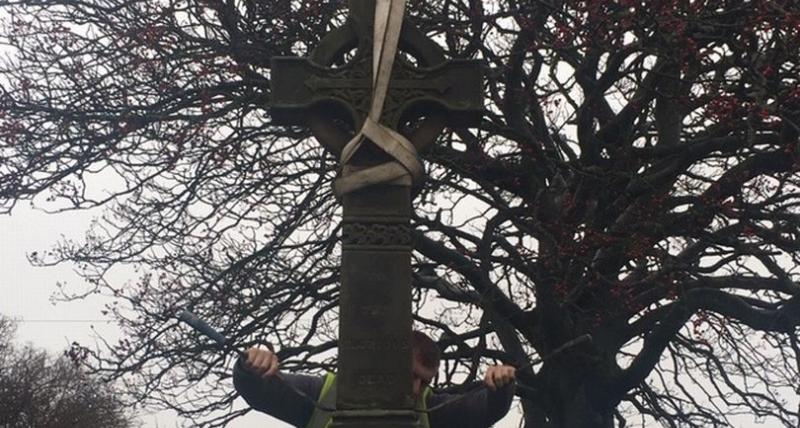 11 November 2021 - 3:12pm
As the council prepares to host further Remembrance services this Sunday, we wanted to offer an insight into how we clean, restore, and maintain our war memorials – and why this is a job that must be left to the professionals.
Memorials are hugely important to all of us in North Tyneside. They act as historical touchstones, linking the past to the present, and keep alive the memories of all those who fought, died, or were in some way affected by war. 
The duty of looking after our war memorials is one that we take extremely seriously.
Our staff routinely inspect, repair, and maintain our memorials, and we carry out additional cleansing and maintenance in the build up to our annual Remembrance services.
We take great pride in doing this because it helps to ensure that our memorials are looking their best as we remember those who lost their lives in two world wars and other conflicts around the world.
We also conduct full condition surveys at regular intervals. This gives us a condition profile of each memorial, so that we can identify where further work and investment might be needed.
In partnership with The War Memorials Trust, we completed a £100,000 scheme to restore 22 memorials and carried out a cleaning programme in line with conservation guidance from Historic England.
This included new paving, inscription cleaning, and lighting repairs at the Earsdon memorial and the cenotaph on Tynemouth Front Street. We are also working with the WMT to agree what restoration work is needed at the Hawkey's Lane memorial in North Shields, which is showing the signs of natural ageing after 100 years of exposure to the elements and is beyond cleaning.
The expert guidance we receive is incredibly important to ensure that our work is in line with best practice, and that our memorials are professionally cleaned, with minimal risk of causing damage during the cleansing process.
Unfortunately, there has been severe damage to one of our oldest memorials caused by some well-meaning members of the public, when they attempted to clean it using abrasive and acidic household products. 
These memorials are very old and delicate, and they must only be cleaned under the guidance of conservation experts. Natural ageing and discolouration should not be mistaken for disrepair or neglect – nothing could be further from the truth.
As a council with a proud tradition of supporting our Armed Forces and veterans, and commemorating our war dead, we are ever respectful of our memorials and the profound meaning they hold for our Armed Forces and people in our communities.
Phil Scott, Director of Environment, Housing, and Leisure services
War Memorials improved / restored in 2018/2019
Archer Street, Holy Cross
Backworth Green, Backworth
Benton Road, West Allotment
Boar War Cenotaph, Front Street, Tynemouth
Bridge Street, Seaton Burn
Burradon Cottages, Burradon
Cenotaph, Front Street, Tynemouth
Cenotaph, Whitley Bay
Church Bank Cemetery, Wallsend
Earsdon Road, Shiremoor
Front Street, Earsdon
Hawkey's Lane, North Shields
Jigsaw, Citadel East
Market Street, Dudley
Memorial Hall, Wallsend
New York Road, Murton Lane, New York
Preston Cemetery
Smiths Park, North Shields
Springfield Park, Forest Hall
St Bartholomew's, Benton
St Cuthbert's Church, North Shields
St George's Church, Cullercoats