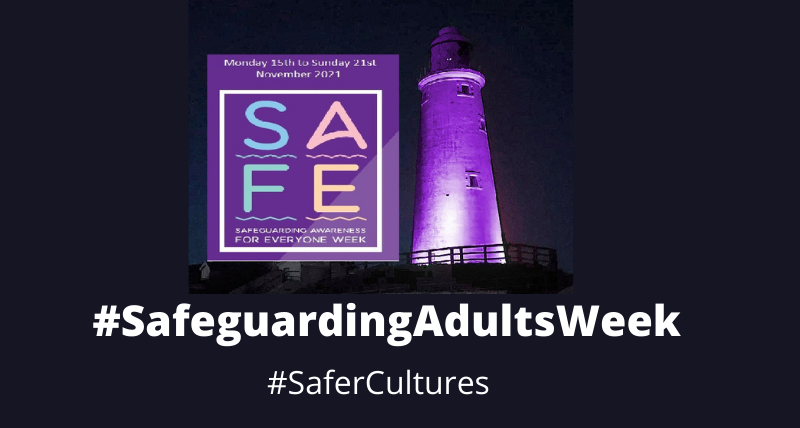 15 November 2021 - 10:15am
North Tyneside and Northumberland are this week joining in a nationwide conversation to raise awareness on safeguarding adults. 
St Mary's Lighthouse will be lit purple to mark National Safeguarding Adults Week and North Tyneside SAFE Week, which take place from Monday 15 November until Sunday 21 November and aim to remind people of the vital role they play in helping prevent abuse by spotting the signs, and the actions that should be taken, if they are concerned about someone.   
This year's theme is 'Creating Safer Cultures' - promoting safer cultures is all about how organisations and individuals can take steps to minimise harm occurring in the first instance, whilst simultaneously ensuring correct policies and procedures are in place so that safeguarding concerns that are raised, are recognised and responded to effectively. 
The North Tyneside and Northumberland Safeguarding Adults Board is a group of agencies who work together to protect adults with care and support needs from abuse and neglect. Abuse and neglect can come in many different forms, including: financial, neglect, emotional, physical, sexual and self-neglect.
Cllr Anthony McMullen, Cabinet Member for Adult Social Care, North Tyneside Council, said: "Adults with care and support needs might not always be able to protect themselves from harm and it is important that we all work together to identify, prevent and respond to abuse and neglect when it is occurring.
"COVID-19 has increased risks for some adults; now more than ever it is important that everyone is aware of the role they can play in reducing risks or reporting concerns.
"It is recognised that some individuals have been increasingly vulnerable and at risk of abuse during this time, particularly in the context of reduced contact with the outside world.
"The increased risks around self-neglect, financial abuse and scams, and domestic abuse are closely monitored, and all agencies are continuing to work together to prevent and reduce the risk of harm to individuals with care and support needs.
"National Safeguarding Week reminds us that by working together we can begin to help those where we live, and work feel supported and feel that someone is always there, but also help residents to spot the signs where that help is needed that has not yet been recognised."
As part of the week both authorities will come together to share resources and information around safeguarding and wellbeing, abuse, mental health and those safe places within our communities to help residents further understand what they need to look out for and how they can support someone who needs it.  
Councillor Wendy Pattinson, Northumberland County Council Cabinet Member with responsibility for Adults' Wellbeing said: "This awareness week is extremely important to remind us all of the part we play in our communities.
"We need to continue having these conversations to raise awareness of safeguarding and how we can support vulnerable adults in our communities.
"If you have concerns of a friend, family member, neighbour or someone you happen to see regularly through other means, it is important that you know how you can help them or get them the support they may need and hopefully you can get just that through this awareness week." 
Paula Mead, Independent Chair of the Safeguarding Adults Board said: "Everyone in our communities has the right to be treated with dignity and respect and be able to enjoy a sustained quality of life and improved wellbeing. 
 "To create safer cultures we need to listen and learn from those around us and lead through our policies and procedures to minimise the risk of harm and to respond effectively should concerns be raised.
"We as a board are committed to doing just that as well as raising awareness of individual's human rights, their capacity for independence, and ensure that they are protected from abuse, neglect, discrimination or poor treatment and that their carers too are kept safe. 
"National Safeguarding Adults week shows how collaboratively we can help those in need." 
For more information and to access resources head to www.anncrafttrust.org/safeguarding-adults-week-2020-links-and-resources
To find out more about how you can report an adult safeguarding concern in North Tyneside visit: https://my.northtyneside.gov.uk/category/1030/adult-social-care