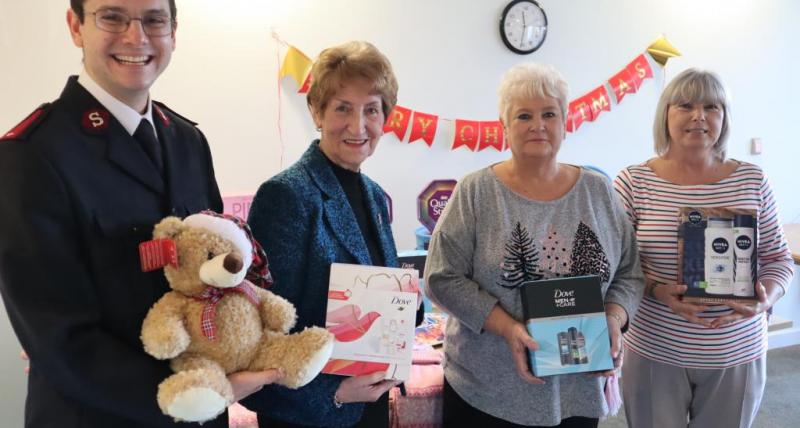 Residents at Windsor Grange in Wallsend have donated money to the Salvation Army to buy Christmas presents for disadvantaged children and teenagers in North Tyneside.
Elected Mayor Norma Redfearn CBE and Luke Cozins from the Wallsend branch of the Salvation Army visited the home to thank the residents.
Mayor Redfearn said: "It just fills me with pride. North Tyneside has got amazing people who care for each other."
Luke Cozins said: "No child should have to wake up on Christmas morning and find that they don't have anything under the tree."
Resident June Johnson added: "It's just great to put a smile on their faces....There's some lovely, lovely people here and I just love it."
The Salvation Army is collecting presents for another week and people can drop off new unwrapped gifts to:
Wallsend:
Salvation Army Charity Shop, 30 High Street, Wallsend, NE28 8HU
Monday to Saturday 9:00am – 5:00pm
(Until Fri 10th December)
Shiremoor:
The Salvation Army, Lesbury Avenue, Shiremoor, NE27 0NL
Sundays 9:30 – 12:00am 4:40pm – 6:30pm
Tuesdays 8:30 – 11:30am 7:30pm – 9:30pm
Wednesdays 9:00am – 1:00pm
Thursdays 8:30am – 11:30am
(Until Fri 10th December)
North Shields:
The Salvation Army, 28 Howard Street, North Shields, NE30 1AR
Tuesday 7th December 12:00am – 2:00pm
Wednesday 8th December 6:30pm – 8:30pm
Thursday 9th December 6:30pm – 8:30pm