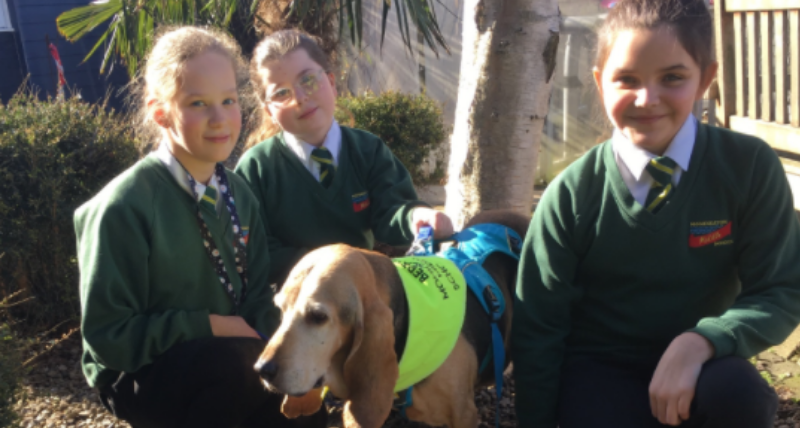 A school in North Tyneside has a very special teaching assistant – Berta the Bloodhound.
From offering a friendly ear to listen to pupils reading – to a soothing presence during a difficult day – Berta, who is trained as a therapy dog, is loved by pupils and staff at Monkseaton Middle School.
The Spanish Rescue Bloodhound Cross is one of a menagerie of animals cared for by pupils in the school including snails, guinea pigs, gerbils and recently a tortoise.
Every Monday lunchtime, pupils can come along to the Animal Care Club – one of the many extra-curricular clubs offered by the school including Steel Pans, Rock Band, Foreign Film Club, Baking, Frist Lego League and Dodgeball.
The variety of activities on offer were praised by Ofsted inspectors to the school during their recent visit when they gave the school an overall grading of "good" noting that it was a "much improved school" since it's last inspection.
The report said: "Monkseaton Middle School is a much-improved school" and that it is now providing a "good quality of education."
"Leaders have raised the bar," it added and "the curriculum is now suitably ambitious."
They commented on how older pupils take on many responsibilities, such as serving as Year 8 mentors, animal technicians or school librarians and set a good example to younger pupils.
Pupils value the opportunities provided by the broad range of extra-curricular activities and see them as an important part of school life, it said.
Kirsty Nichols-Mackay, Headteacher at the school since 2018, said: "The COVID-19 pandemic has been a very unsettled time for our pupils and Berta has been a real comfort to children who might be struggling emotionally – and staff too. She is also a fantastic listener and really encourages pupils to read out loud.
"Our enrichment activities are an important part of our school life - they enable all children to access opportunities that they may not otherwise be able to do. They are all free of any charge and children are encouraged to attend as many as they wish.
"Gaining new skills and taking on new challenges can help them grow in confidence and ignite that spark of enthusiasm that will bring so many benefits to their whole learning experience and help them to shine.
"After two years of lockdowns, it's never been more important for our young people to have the chance to gain as wide a range of life experiences as possible.
"We're delighted with the many positive comments from inspectors and I am so proud of all our whole school community for the hard work and resilience they have shown over the last two years."