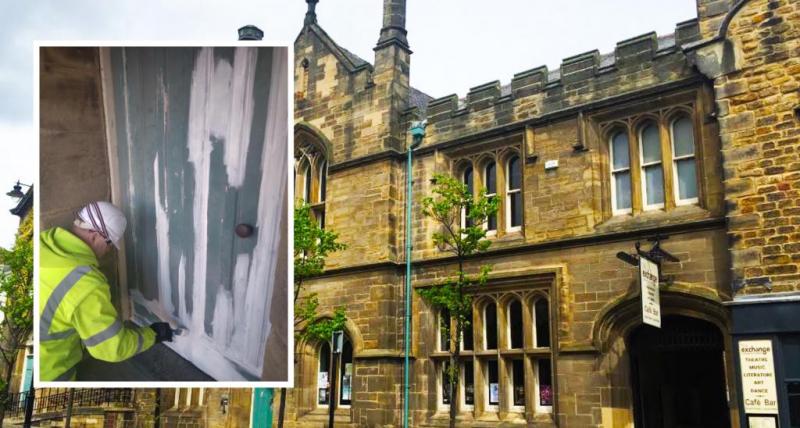 Members of the public are being invited to put on a hard hat and find out more about the restoration of a North Shields landmark. 
The Grade II listed Exchange theatre, bar, and arts venue on Howard Street, is undergoing a meticulous programme of conservation and restoration work led by North Tyneside Council.
Designed by John Dobson in the 1840s and originally functioning as Magistrate's Court, savings bank, museum, civic offices, and Mechanics' Institute before becoming the town hall, the buildings are being upgraded as part of the North Shields High Street Heritage Action Zone (HSHAZ) funded by Historic England and North Tyneside Council.
On March 24, there will be a series of 'hard hat tours' for residents each lasting around 45 minutes. These tours will give people a unique opportunity to see experts working up close as they carry out repairs to windows, walls, and timbers as well as to find out more about the history of the building and local area.
As well as public access, there will also be an opportunity for construction students to see first-hand how historic buildings are repaired, to help them develop skills in traditional construction trades such as stone masonry and joinery
Places must be booked in advance via Eventbrite or by calling 07786 468 979.
The North Shields High Street Heritage Action Zone (HAZ) is a partnership between North Tyneside Council and Historic England.
The HAZ project, which is part of the council's Ambition for North Shields and the Fish Quay regeneration Masterplan, is a four-year programme of physical improvements, as well as community and cultural activities. It is a place-based scheme designed to secure lasting improvements to historic high streets and the communities who use them.
Work is also underway to recreate the Georgian-era appearance of the historic Northumberland Square sympathetic to its heritage and roots.
The scheme will be the first step towards creating a new Cultural Quarter for North Shields, incorporating the Square and the top end of Howard Street (north of the Saville Street junction to the Square), offering a new, pedestrian and cyclist-friendly environment and cultural scene.
North Shields is one of more than 60 High Street Heritage Action Zones around the country, part of a government-funded initiative and led by Historic England, which aims to breathe new life into local high streets, from regenerating historic buildings to engaging local communities through art and cultural projects.