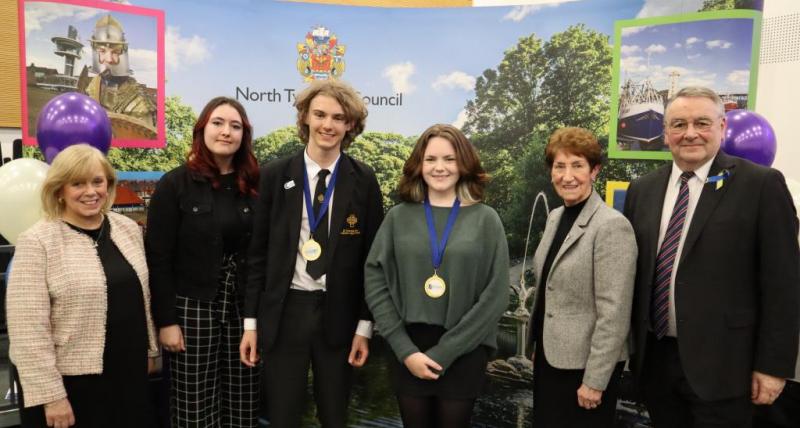 Young people in North Tyneside have elected their next Young Mayor and Member of UK Youth Parliament.
The election saw Max Godfrey, aged 15 and a student at St Thomas More Roman Catholic Academy, chosen by his peers as Young Mayor.
While 15-year-old year-old Hannah Clark McKeran, a pupil at Marden High School, has been elected as North Tyneside's Member of UK Youth Parliament.
North Tyneside's Elected Mayor Norma Redfearn CBE and MP Mary Glindon were on hand to present Max and Hannah with their badges of office.
Mayor Redfearn said: "It's very important to me that young people have their voices heard and the Young Mayor and Member of Youth Parliament roles play an integral part of this. 
"Our previous Young Mayors and Members of Youth Parliament have done an amazing job and I always enjoy hearing about their latest projects and their thoughts and plans on how the borough can be further improved for the benefit of children and young people.
"I'd like to congratulate and thank all those who put themselves forward, and a big well done to Max and Hannah. I'm sure they will do an excellent job of representing the views of borough's young people locally, regionally and nationally, and I look forward to working with them."
MP Mary Glindon added: "It's fantastic that so many young people want to be involved in local democracy. We want to encourage our young people to become active citizens, and this is a great way to do so. I'd like to wish Max and Hannah the very best of luck in their new roles."
Both Max and Hannah will now take up their roles and each hold office for a year.
As Young Mayor, Max will act as a figurehead for young people in the borough, giving them a voice and influencing decisions made by North Tyneside Council's Elected Mayor, Cabinet and Council.
Speaking after being elected, Young Mayor Max said: "Thank you to everyone who cast a vote in my favour. I pledge to work for everyone who voted for me, but also everyone who didn't. I pledge to represent every issue that young people care about."
Hannah will join 350 others from across the UK as part of Youth Parliament. Her job will be to represent young people from the borough, taking forward their views and debating on their behalf locally, regionally and nationally.
She will take forward the issues that North Tyneside Young People have voted are most important to them in the Make Your Mark ballot. She added: "Thank you to everyone who voted for me and who supported me through the campaign. I genuinely can't wait to make a difference."
Most of Max and Hannah's duties will be arranged outside of the school day, and they will be supported to make sure they honour all school commitments.
Young people aged between 11 and 18 who live, work or attend school or college in North Tyneside, were eligible to stand for election, and take part in the vote.
For more information about young democracy in North Tyneside click here.