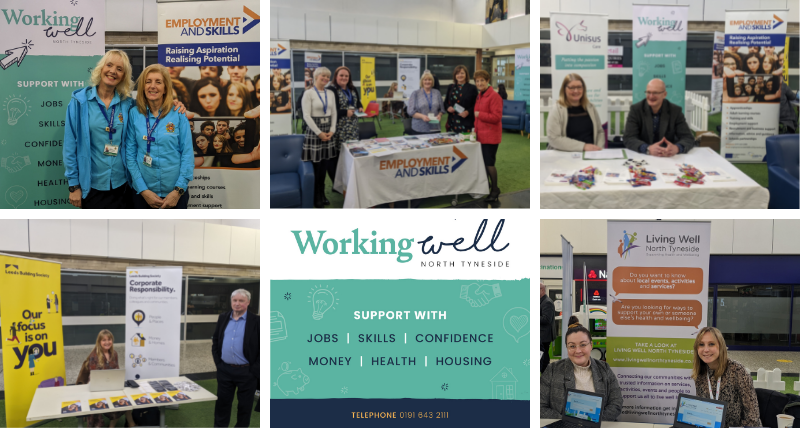 An exciting new service to support people back into work is launching in North Shields.
Working Well North Tyneside will provide a one-stop-shop to make it easier for people to access employment and skills support - from the latest information on the jobs market to building confidence.
As well as expert employment advice there will be information on hand to address the wider barriers to employment including finance, debt, housing, and physical and mental health.
It will be delivered by North Tyneside Council from a new hub in North Shields, in partnership with the NHS, Department of Work and Pensions, and the community and voluntary sector.
The project will be closely linked to the regeneration of North Shields council masterplan, expanding the support available and encouraging developers and employers in the town centre to offer training and job opportunities. More hubs will be rolled out across the borough.
Representatives from all the organisations involved will be based in the Beacon Shopping Centre, North Shields, from 11am until 3pm Monday to Friday until March 18 and they hope people will come along and pay them a visit to find out more about the new service and share their views.
Cllr Karen Clark, Cabinet Member for Health and Wellbeing, North Tyneside Council, said: "Here in North Tyneside, we are fully committed to tackling the root causes of health inequalities and recognise the vital role that good quality employment and access to a real living wage can play in supporting positive health and wellbeing. 

"The Covid-19 pandemic has impacted hard on everyone but particularly those people who were already struggling, and it is now more important than ever that we work with our residents and support them to overcome barriers to access new and existing employment opportunities and improve health and wellbeing.

"The engagement activities taking place over the few weeks will ensure the voice and experience of our residents is central in shaping and influencing the type of services and support to be delivered through the new multi-agency hub.  It will be a one-stop-shop providing bespoke support to meet individual need."
Cllr Peter Earley, Cabinet Member for Children, Young People and Learning, added: "This new service is about bringing all the fantastic support we have here in the borough together to make it easier for people to fulfil their aspirations and overcome any barriers they may face – this could be through training, health advice or confidence building.

"There are lots of opportunities out there across sectors – from tech jobs in our business parks – to care services, the NHS and in our schools – as well as training and volunteering opportunities."
Sir James Mackey, Chief Executive of Northumbria Healthcare NHS Foundation Trust said "We know that having good, stable employment is one of the key drivers in better health which is why we're supporting this fantastic new initiative. We hope it will not only help us find the next generation of staff to join the NHS but also help our local population to stay healthier and happier for longer.

"Employment is one of the key pillars in our community promise which sets out exactly how we want to achieve a positive impact on the health and wellbeing of everyone who lives in the areas that we serve."
Among the team based in the hub is Sharon Percy McGregor, an employment advisor with North Tyneside Council.
Sharon, who also works as an actress, became the face of austerity when she played Sheila, the by-the-book job centre worker, in the award-winning film, 'I Daniel Blake.'
But she found herself sitting on the other side of the desk when she struggled to find work after being made redundant from her role as a charity worker.
Now, after gaining her English and Maths qualifications at 42, she has retrained as an employment advisor with North Tyneside Council and is helping to get others back into work.
It's all very different from the hard-line approach taken by Sharon's character in the powerful 2016 Ken Loach film, which highlighted the challenges faced by benefits claimants.
Sharon, 50, lives in Cullercoats with her husband and two daughters and continues to pursue her passion for acting alongside her council role, with recent roles in Vera and theatre productions.
She said: "I absolutely love my job and helping to give people that confidence to go after their dreams is so rewarding. 

"It's definitely all about individual support – not about sanctions and box-ticking like the role I played in the film.

"We want people to feel that they can come in, have a cuppa, talk to us and know that we'll listen and understand. We're not robots – we're people too and have all been on our own journeys to get where we are.

"Being part of 'I Daniel Blake' was an amazing experience. But my personal circumstances changed, and I later found myself in the job centre myself.  It was a really hard time. I was a single mother-of-two and found I didn't have the qualifications I needed for many of the jobs available and so it felt like starting from scratch and I was just surviving.

"I could never have imagined that a few years later I would be helping people to find work in real life as an employment advisor.

"I gained my qualifications in English and Maths at 42 – so I tell people it's never too late to learn something new!

"We are here to listen to people about what they need and provide support to help them achieve that. We want to encourage, inspire, and motivate so that they believe in themselves.

"There are lots of opportunities out the in North Tyneside right now and want as many people as possible to be able to benefit from that."

The council's Employment & Skills team offer a wide range of support services and programmes working with people of all ages to find the career that's right for them.

But the new hub aims to draw on the wider expertise of its partners to take a more nurturing approach.
Dr Dave Tomson, Clinical Director for North Shields Primary Care Network, said: "There is clear evidence that finding meaning and purpose in our lives is really important to our health and wellbeing and work is one of the things that can help provide that. Good employment also provides opportunities to be financially independent and make connections with others that can tackle social isolation and loneliness.
"I hope people will come along to see us over the next few weeks and just start the conversation so we can talk about taking the first steps on their journey – it could be learning a new skill, building confidence or volunteering.
"I'm really excited by this new partnership and by working together, we can listen to the needs of each individual and direct them to the right support to overcome any challenges and reach their potential."
Keep up to date with the latest on the Working Well North Tyneside launch on Facebook here.