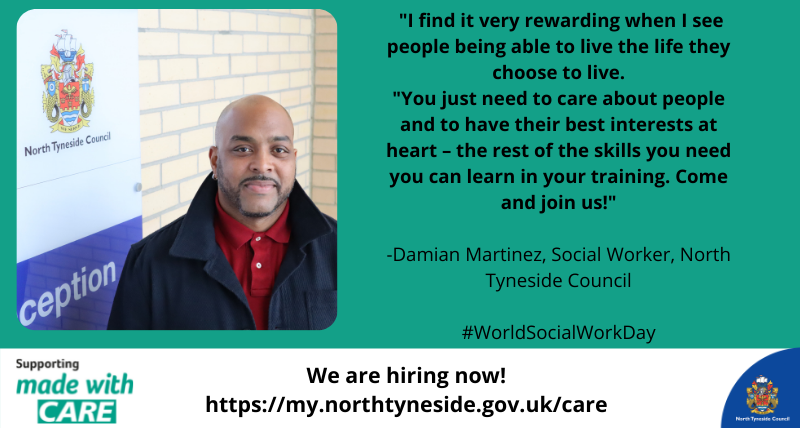 Today we're celebrating World Social Work Day and we would like to thank all of our social workers for the difference they make every day.
Damian Martinez, works as a social worker in our Community Wellbeing Coast Team and shares with us why he swapped his job in customer service for a career in care. 
"I see my role as being to try and help people to live the best life that they can.

It is hard to describe a typical day – as my job is so varied, which is one of the many things that I love about it.

I may be meeting a resident for the first time, to find out if they need support. This can be challenging, as you have to build trust – to let the person know that all I want is the best for them.

Or I may be finding out what someone needs to live independently – I find it very rewarding when I see people being able to live the life they choose to live.

Unfortunately, it is not always possible and that can be one of the hardest parts of my job. But I am able to offer some level of support although this may be only information and advice on occasions.

I love working in North Tyneside, if I have had a tough day, I drive along the coast which helps me to relax, looking at the sea.

I also have a wonderful team around me, they are my family away from home.

When I was growing up in Trinidad, I never thought I would be doing the job I love today. I thought I would be a policeman like my father. I then discovered rugby at 15 and after playing for Trinidad and the West Indies I moved to England to play professionally.

I worked as a customer service advisor and I enjoyed helping people with their problems. Then, when my wife's father became ill, I saw for the first time the important role that social workers play when people face difficult times and I felt that I wanted to help make that difference.

So, I set about retraining and I went to Newcastle College and then Sunderland University to study social work. While I studied, I worked as a doorman in Newcastle – which was a really good experience for developing skills to communicate with a wide range of people.  After graduating, I started a temporary role with North Tyneside Council which then became permanent, and here I am!

I hope that more people will think about careers in care. You just need to care about people and to have their best interests at heart – the rest of the skills you need you can learn in your training. Come and join us!"
We're hiring, find out more about our wide range of roles in care here: https://bit.ly/3ozBFmV