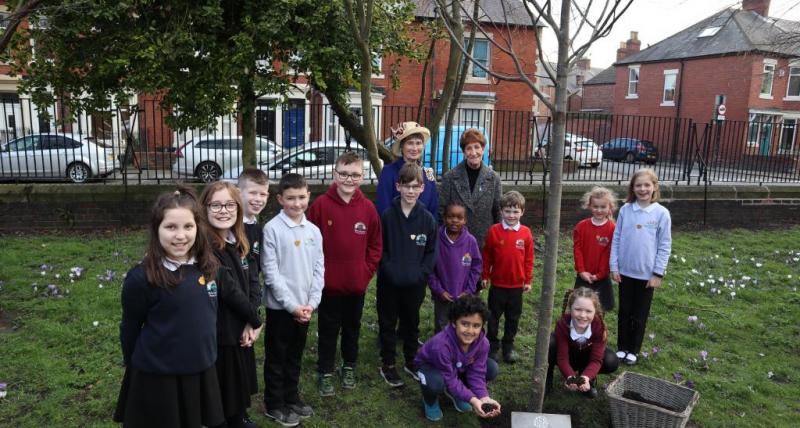 As the Queen's Platinum Jubilee year gets underway, North Tyneside Council has planted a tree to celebrate the occasion in a Wallsend park.
A large-leaved lime (Tilia Platyphyllos) tree was planted in Richardson Dees Park, Wallsend, this week by North Tyneside Elected Mayor Norma Redfearn CBE.
Mayor Redfearn was joined by Her Majesty's Lord Lieutenant of Tyne and Wear, Susan Winfield, CVO, OBE; Deputy Chair of the Council Cllr Pat Oliver; and Cllr Sandra Graham, cabinet member for Environment.     
The planting is part of the Queen's Green Canopy, a unique tree planting initiative created to mark Her Majesty's Platinum Jubilee and invites people from across the United Kingdom to 'Plant a Tree for the Jubilee'.
The project in North Tyneside, as well as more planting in the borough this season, has been made possible thanks to funding from Trees for Cities – the only UK charity working at a national and international scale to improve lives by planting trees in cities. 
This week's planting also marked the launch of the North East Community Forest in the borough – a multi-million pound, 30-year project, across North Tyneside, Newcastle, Gateshead, South Tyneside, Sunderland and County Durham. It will see the equivalent of almost 6,000 rugby pitches of new woodlands, hedgerows, orchards and trees planted by 2050.
Mayor Redfearn said: "I am delighted to have planted the tree on behalf of North Tyneside Council, which will not only benefit the environment but creates a legacy in celebration of the Queen's 70 years of service and leadership.
"As a council, we are committed to doing all we can to work towards being carbon net zero by 2030. We all know how important trees are in improving biodiversity and capturing and storing carbon dioxide, all of which contribute to our net zero ambitions."
Last year, the council announced significant reductions in the amount of carbon emissions that had been achieved, with savings of 52 per cent for the council and 41 per cent for the borough as a whole*.
The council's ambitious programme of climate change work will continue to make a difference with initiatives including installing LED street lighting; installing low-carbon heating, energy efficiency and energy generation measures in council homes and buildings; further improving recycling; increasing sustainable transport options; creating a North East Community Forest, electrifying appropriate Council vehicles; and more.
*The 52 per cent reduction has been achieved by the Council since 2010/11, while the borough's carbon footprint has been reduced by 41 per cent since 2005.
ENDS