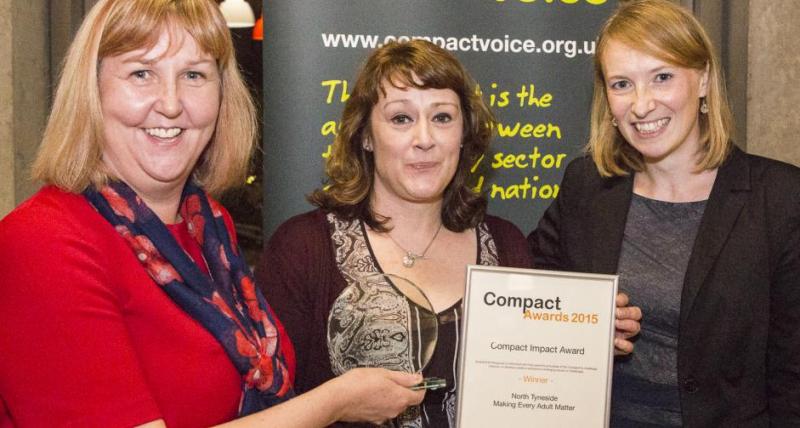 7 December 2015 - 10:14am
An innovative project between North Tyneside Council and the local community and voluntary sector has been recognised nationally.
The team behind the 'Making Every Adult Matter' (MEAM) service was presented with a top accolade at this year's Compact Voices National Awards.
Held in London, the awards ceremony celebrates excellent partnership working taking place between local authorities and the voluntary and community sector.
And the MEAM service took home the 'Compact Impact Award' after judges recognised it for using the skills and experience of cross-sector partners to deliver outstanding outcomes for disadvantaged adults.
MEAM, which is led by North Tyneside Council's adult social care team, works with adults with multiple needs who have difficulty accessing services or who have been excluded from using them. 
Problems people face includes issues like homelessness, substance misuse, offending, mental health, family breakdown and chaotic lifestyles.
While the council coordinates the service, a panel made up of a range of organisations meets fortnightly to discuss cases, share information, agree action and ensure support is tailored to the individual.
Speaking after the awards, Cllr Alison Waggott-Fairley, cabinet member for Adult Social Care, said: "On behalf of the council, I'd like to congratulate and thank all those involved with the Making Every Adult Matter service – the award is much deserved. 
"Initially set up as a pilot, the huge success of the project has meant it has become a permanent service.
"Since being set up in 2014 the project has worked with over 70 people, helping them to settle in new homes, reduce the risks they face, reduce offending behaviour and successfully access mainstream support services, something they previously weren't able to do.
"The service is a perfect example of how working with the community and voluntary sector can achieve brilliant results and have such positive outcomes for our residents."
One of those partners involved in the project was Gosforth based not-for-profit housing provider Home Group. Laura Wade, Home Group senior client services manager, said: "We're delighted to have been involved in an innovative project which has been recognised on a national stage. 
"Partnership working between local authorities and expert providers such as Home Group really does ensure that vulnerable adults can receive the support they need."
The annual awards are organised by Compact Voice, which represents the voluntary sector on the 'Compact', both locally and nationally. The 'Compact' is a voluntary agreement that aims to foster strong, effective partnerships between public bodies and voluntary organisations.