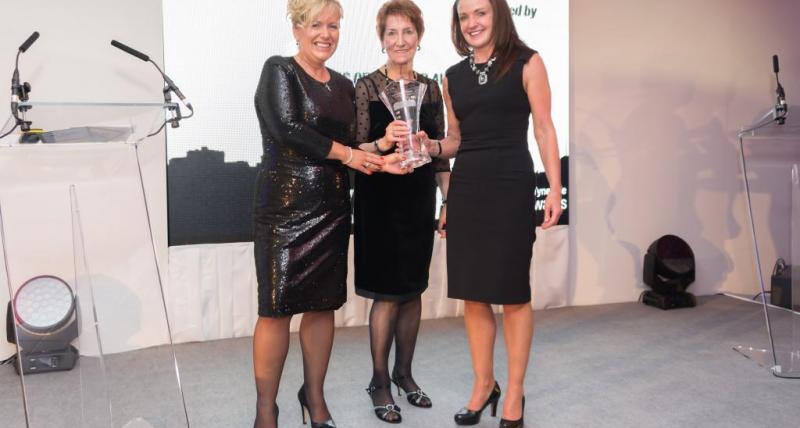 2 December 2015 - 12:00am
The best of North Tyneside's businesses have been celebrated at the North Tyneside Business Awards 2015. 
The annual awards, which are managed by the North Tyneside Business Forum, celebrate the huge contribution that businesses make to the local economy and the communities who live and work in North Tyneside. 
The ceremony was held at the Village Hotel, Cobalt Business Park, last night (Tuesday 1 December) and was attended by 200 members of the business community. It was hosted by local entertainer Brendan Healy.
This year there were six categories with the winner of each category being automatically entered into the well sought-after "Business of the Year" award. 
The "North Tyneside Business of the Year" award for 2015 went to Multi Packaging Solutions (MPS) who were also winners of the award for "Innovation". 
Multi Packaging Solutions (MPS) is a full service print and packaging supplier with state-of-the-art prepress, press, and finishing technologies. MPS have been established in North Tyneside for over 50 years, and during this time they have made a significant contribution to the borough, employing over 320 people. 
North Tyneside Elected Mayor, Norma Redfearn said: "The North Tyneside Business Awards provide the perfect opportunity to honour and celebrate the brilliant contribution that our businesses make to the local economy, our communities and to the people that live and work here in North Tyneside.
"I was delighted to meet all the different businesses at the event and find out more about the important role that they play in our borough.
"I'd like to especially congratulate Multi Packaging Solutions for taking home the title of 'North Tyneside Business of the Year' – a business that I am proud to say has been established here for over 50 years. 
Multi Packaging Solutions was chosen as North Tyneside Business of the Year because it truly demonstrates the originality and enterprising spirit that makes North Tyneside exactly what it is." 
Linda Nelson, Finance & Commercial Director of Multi Packaging Solutions Killingworth site, said: "We are thrilled to have been awarded with the North Tyneside Business of the Year award, and of course the Innovation award which was for the tremendous work done by Customer Services and Purchasing on streamlining our Supply Chain. They are an absolute credit to our employees and reflect their skill, dedication and loyalty.  The awards also show the progress we've made as the business where people come to learn and reinforce our position as a key supplier of innovative packaging solutions. They clearly demonstrate the consistently high standards we strive to offer all our customers."
For the second year, the Special Contribution Award was presented; this was awarded to the business which has made the biggest impact on the local community and economy of North Tyneside. This year the award went to Accenture, who have recently expanded into a second office on the UK's largest office park, Cobalt Park in the heart of North Tyneside and employ over 700 of the park's workforce.   
Customer Service Award
Winner: Tutti & Co
Runners-up: Tynemouth Priory Theatre, Birth & Baby
Established in 2004, Tutti &Co has grown into an exclusive jewellery, fashion, home and gift accessories brand designed for the contemporary lifestyle. Over the last 10 years the business has steadily developed into a highly regarded lifestyle brand offering scarves, gifts and homeware in addition to jewellery. It is opening a pop-up shop for TUTTIHome in Fenwick in January 2016.
Social Responsibility Award
Winner: Move it Studios
Runners-up: Coffee Giant, Olives
Move it Studios are a not-for-profit dance, performance & fitness studio set up in the heart of Wallsend. The business has been built up from 20 to over 100 dancers and they regularly hold events in the studio and in the community. Move it Studios, have also been able to secure two top names in dance for visits to the studio - Regularly hold events in the studio and in the community Chloe Lukasiak from TV's Dance Moms, and famous street duo Twist & Pulse.
New Business Award
Winner: Whitley Bay Clinic
Runners-up: Red Handbag, Squidgers
Whitley Bay Clinic is an innovative physiotherapy clinic which provides highly effective treatments for a wide variety of painful conditions and injuries. They have provided an excellent standard of care to almost 1000 patients in their first year and have established local links with neighbouring NHS trusts as well being approved as providers of private healthcare from global health insurance companies.
Putting North Tyneside on the Map Award
Winner: Northumbria School of English
Runners-up: Tyne Idols, Segedunum Roman Fort
A private English language school based in Whitley Bay, accredited by the British Council, offering high quality English language programmes and summer schools to international students. The school has successfully marketed courses, the school, town and region to hundreds of overseas agents and students at workshops and exhibitions abroad and in the UK and has introduced over 2000 students from 59 different countries to the region. 
Innovation Award
Winner: Multi Packaging Solutions
Runners-up: VREO, SliMtel Ltd
Multi Packaging Solutions (MPS) is a full service print and packaging supplier with state-of-the-art prepress, press, and finishing technologies. The business employs over 320 people on the Killingworth site making MPS one of the region's biggest employers. They have successfully rolled out their programmes to global businesses such as Mondelez, Nestle and P&G.
Apprentice Employer Award
Winner: Greggs
Runners-up: Owen Pugh, Advanced Industrial Solutions (AIS)
Greggs is a much-loved and trusted brand with a strong bakery heritage in the North East. Their supply network comprises nine regional bakeries, two distribution centres and two centres of excellence. They have recently announced the relocation of their HQ to Quorum Business Park, North Tyneside. This is the first year Greggs have taken on Engineering Apprentices for a long time which is an exciting and important programme for the business.
For more information about North Tyneside Business Forum, visit www.northtynesidebusinessforum.co.uk or call (0191) 643 6000.