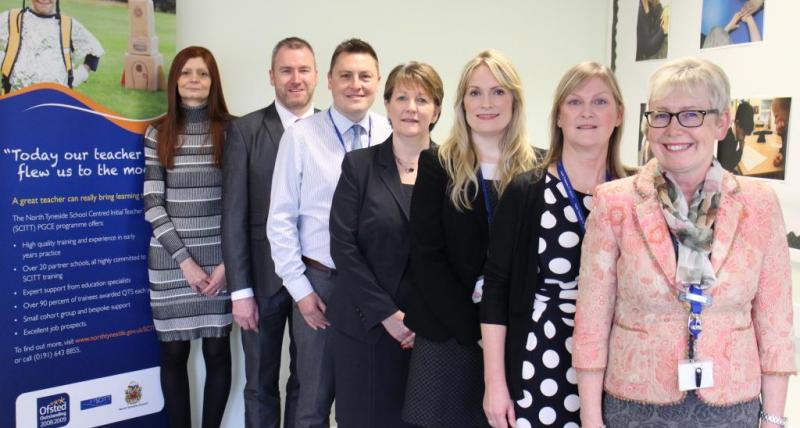 23 November 2015 - 9:54am
A programme to train the North East's next generation of outstanding primary school teachers has been awarded top marks across the board by Ofsted.
The North Tyneside School Centred Initial Teacher Training (SCITT) programme is a teacher training course for graduates who wish to specialise in early years and primary school education.
It has once again been judged as 'outstanding' in all areas by inspectors who praised the high quality training on offer, the quality of leadership and management and the outcomes for trainees - as well as many other strengths. 
This latest rating defines the North Tyneside SCITT as one of the very best primary school teacher training programmes in the country.
It's the second consecutive 'outstanding' judgement for the programme, which was also rated as outstanding in its last inspection in 2009.
The North Tyneside SCITT is a partnership of 34 North Tyneside schools and the programme is managed by North Tyneside Council. It also has close links with the local authority's School Improvement Service and the New York Teaching School Alliance which offers School Direct teacher training places for Key Stages 1 and 2 (aged 5 – 11 years).
Councillor Ian Grayson, Cabinet Member for Children, Young People and Learning, said: "This latest report from Ofsted is truly exceptional, and reaffirms that our North Tyneside SCITT is one of the very best primary teacher training programmes around. 
"The North Tyneside SCITT is led by a team of dedicated and remarkable professionals and as a result we consistently train outstanding teachers, year after year. It makes me very proud to know that we have such an fantastic teacher training programme here in North Tyneside, and its great news for our next generation of learners that so many of our trainees go on to teach in North Tyneside schools."
The North Tyneside SCITT programme has a strong focus on recruiting only the highest calibre of graduates who want to become excellent early years and primary teachers. This stringent selection process consistently produces first class teachers who exceed expectations and demonstrate consistently high standards of personal and professional conduct. As a result, most trainees achieve outstanding levels of attainment and go straight into teaching jobs at the end of their training. 
The inspectors particularly noted the high levels of skills and abilities of SCITT trainees and newly qualified teachers when observed in their school settings, including managing pupils' behaviour, planning for different ability groups and encouraging pupils to take a conscientious attitude to their learning.
The inspectors also spoke to current trainees and newly qualified teachers about their experiences and all had high praise for the course, which one trainee described as 'so good, so great!'
The North Tyneside SCITT will be hosting its next information event for future trainees, on Wednesday 2 December between 4.30 pm and 6 pm at the Langdale Centre, Wallsend, NE28 0HG. To find out more or to book a place, email scitt@northtyneside.gov.uk or call (0191) 643 8855.
To find out more about the North Tyneside SCITT and to download the latest prospectus, visit www.ntscitt.org.uk.